Company Test Management Control Panel - Free
Each company will be provided a private control panel which will allow them to manage their employees testing and monitor their progress. This is a free service to the companies. From this company test management center a company will be able to perform the following functions: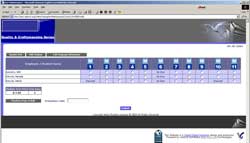 Employee / Student Functions:

Create and manage employee/student account
Assign or change employee/student passwords
Assign the language that an employee must test in Inactivate a student who will is no longer with the company

Purchase, Allocate and Re-Allocate Test Keys

Keys may be reallocated at anytime prior to an employee / student begining to test on that module (i.e. use that key)

Monitor their Employee / Student performance

See the status of a student for a particular module (In Use or Passed )
View an employee / student's score(s) of the test(s) for that particular module
---
Fees

Each module test costs only $5 per employee.
For that $5 fee, a student may test as often as necessary until they pass a particular module. A Certificate of Completion will be provided to each student via email after they sucessfully pass that module. If a student fails to pass a particular module, they will be given additional tests for that module, untill they successfully complete it.